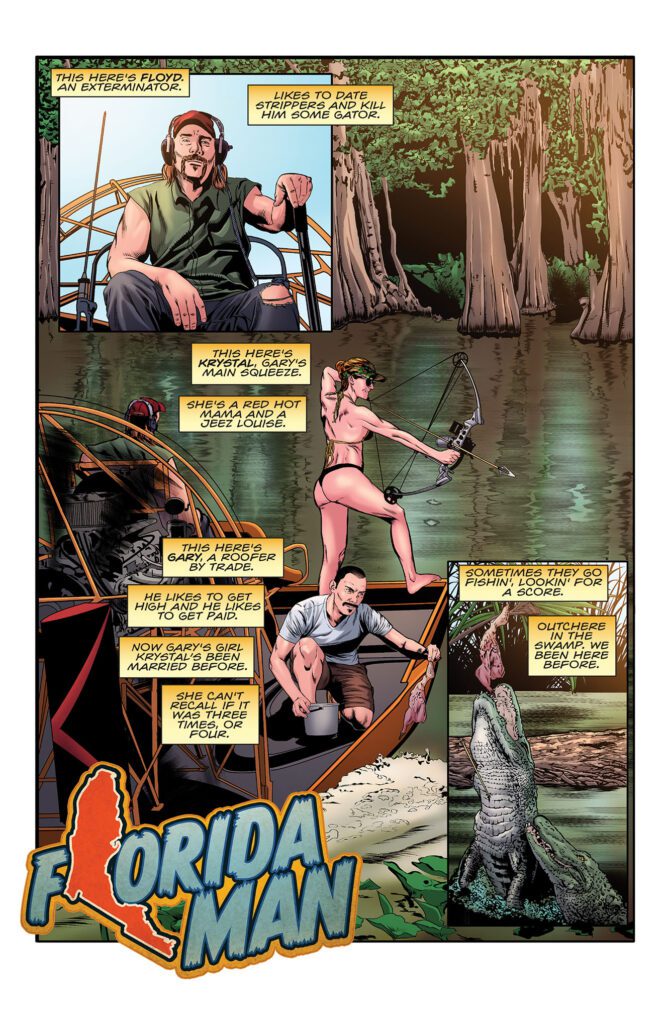 As American Mythology Productions celebrates their 5 Year Anniversary, the upstart publisher will tickle the funny bones of every grown-up that still loves comics with their summer release of Florida Man #1.
Award-winning writer Mike Baron achieved massive success with his acclaimed series of Florida Man novels, and now artists Todd Mulrooney, Marcello Salaza, and Elias Martins have brought the character to life in a series of comics shipping this July that feature the quintessential "Florida Man" in all his outrageous glory.
Baron's career as a comics writer is legendary. As both a two-time Eisner and Inkpot winner, he first became known for creating the cult-favorite superhero Nexus, along with another indie hit, The Badger, but he's perhaps best known for an unprecedented five-year run on Marvel's The Punisher, along with celebrated runs on DC Comics' The Flash, Deadman, and Dark Horse Comics' Star Wars comics.
Now Baron is bringing his own brand of "funny books" to American Mythology in an adaptation of his successfully crowdfunded Florida Man graphic novel, featuring new twists and never before seen artwork in the flavor of the many hilarious and bizarre stories that have appeared in viral news headlines and internet memes for years. Readers will ride along with Gary, a larger than life figure hailing straight from the heart of the most magical and bizarre state in America.
Gary Duba's got dreams, big dreams, but first he's got to bail out his girl Krystal, again – while getting into whacky situation after whacky situation, evading angry judges, working for sleazy lawyers, landing in and out of jail, and even winning the lottery.
American Mythology has made a name for themselves publishing The Three Stooges, Zorro, Sonya Devereaux, and Tom Holland's Fright Night comics, and the outrageous tales of the near-mythological Florida Man ought to be a perfect fit. Mike Baron's Florida Man comics hearken back to classic hit comedies like Smokey and the Bandit, Porky's, Joe Dirt, Raising Arizona, and are squarely aimed at grown-ups who still love "funny books."
Florida Man is "a wild, redneck fever dream fueled by a cache of increasingly funny and absurd circumstances," says Morgan Quaid of Super Serious Comics, adding that there is "a wonderful insanity to the story… a joy to read!"