Blizzard Arcade Collection is a compilation from Blizzard's days as an arcade game maker. It features Blackthorne, The Lost...
The final game announced in the Indie Direct was the sequel to Oxenfree, Oxenfree II: Lost Signals. Oxenfree was...
Today, Annapurna Interactive announced two new games coming to Switch: Last Stop and Hindsight. Last Stop will be coming...
The classic 2D…3D? puzzle platformer Fez is out now on Switch! Originally released in 2012 and created by Phil...
At the end of the Indie Direct, it was announced that there will be a sale from today until...
Meet Brawlhalla's 53rd legend, Reno the space cowboy tracker, in this latest trailer for the game. Check out the...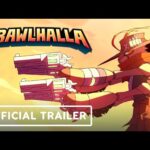 The mobile fantasy battle RPG, SINoALICE, gets a collaboration event featuring the anime series, Re:ZERO – Starting Life in...
Email us at PSPodcast@sony.com! Subscribe via Apple Podcasts, Spotify, Google or RSS, or download here This week the team...
Last week, we asked you to step into the moonlight and share your best moments with the moon using...